Freezer chest ERGO BD-100
Dimensions: 54.5 х 84.5 х 55 cm
Volume: 100 L
Color: White
THE MODERN FREEZER ERGO BD-100
WILL PRESERVE THE MAXIMUM OF
FLAVOR AND HEALTHY PROPERTIES
OF YOUR PRODUCTS.
Comfortable and modern ERGO BD-100 freezer with a metal sealing cover and classically designed will undoubtedly become your reliable assistant and allow you to make the necessary supplies for the whole year.
The compact ERGO BD-100 freezer can be installed in any room and is designed for long-term storage of supplies for both commercial and household purposes.
For the proper storage of frozen foods, it is important to set the right temperature regime. A convenient electromechanical temperature control system in the freezer allows you to easily set the needed temperature.
The A+ energy consumption class allows to spend 25% less electricity than when using Class A models, and 45% less when using Class B models.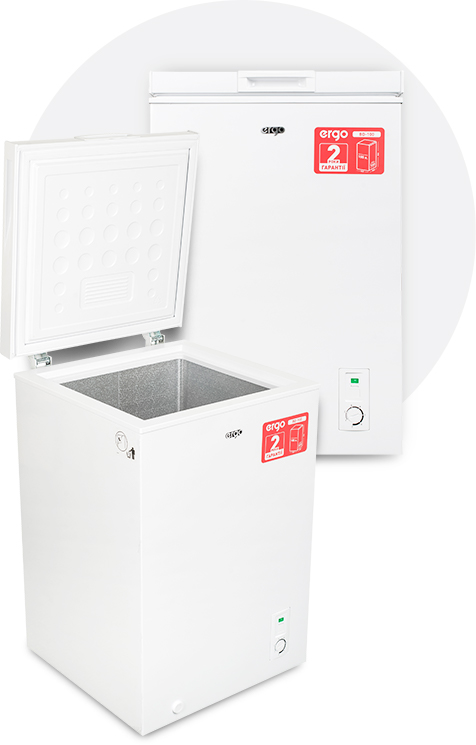 POWER AND RELIABILITY
The freezing capacity of up to 6 kg / day provides long-term freshness of the products and preservation of their useful properties. Independence and reliability is not a luxury, but a standard for this model. Due to independent 24 hours long preservation of the cold in the chamber, your products will stay always fresh in the event of an unplanned power outage. Ergonomic and practical distribution of the camera space for more efficient use! Separate mounted sections help the customer to rationally use the entire volume of the camera.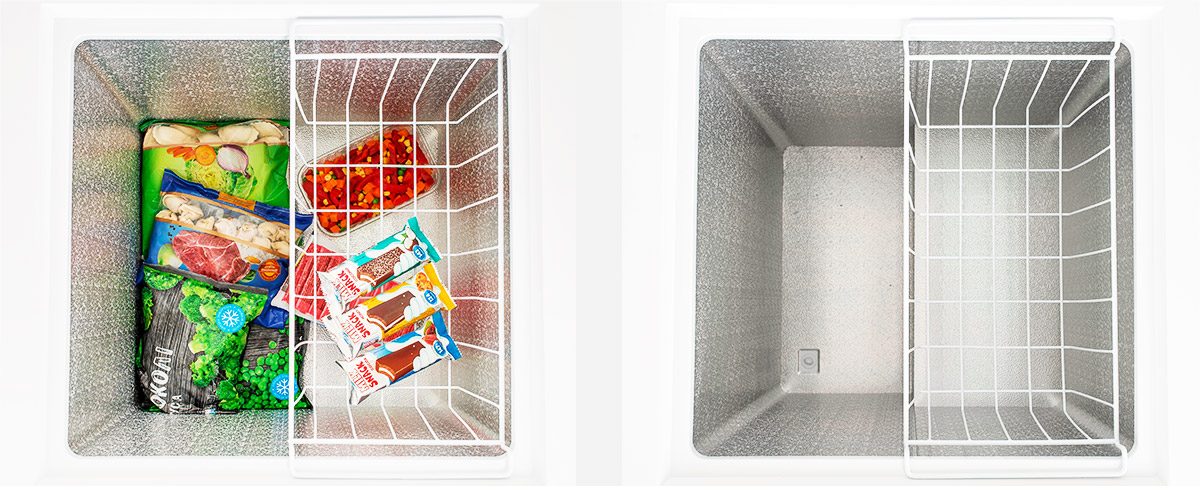 UNLIMITED
DURABILITY
Sturdy hinges allow to actively use the freezer without worrying about the integrity and tightness of the lid and camera connection.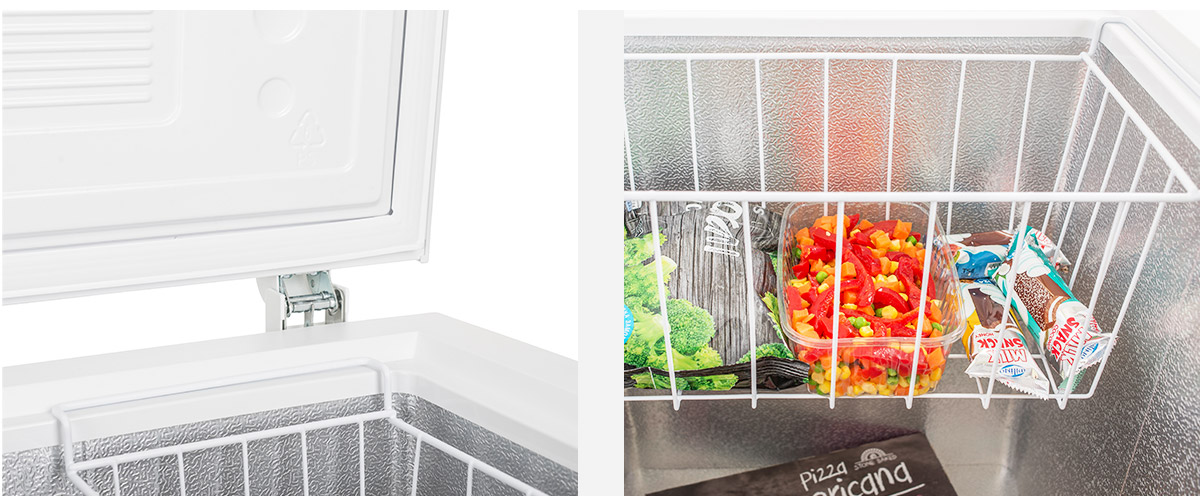 | | |
| --- | --- |
| Type | Cache |
| Installation method | Standing separately |
| Main characteristics | |
| Control type | Mechanical |
| Display | No |
| Display | No |
| Useful volume, l | 100 |
| Energy efficiency class | А+ |
| Climatic class | ST |
| Number of compressors | 1 |
| Autonomous cold storage, h | 24 |
| Freezing capacity, kg/day | 5.5 |
| Noise level, dB | 42 |
| Refrigerant | R600a |
| Reversible doors | No |
| Cooling of freezing chamber | Static |
| Defrosting type of freezing chamber | Manual |
| Number of baskets | 1 |
| Interior lighting | LED backlight |
| Retractable containers from transparent plastic | No |
| Physical characteristics | |
| Size (W x H x D), cm | 54.5 х 84.5 х 55 |
| Package size (W x H x D), cm | 57 х 88.5 х 57.5 |
| Weight, kg | 25 |
| Weight in package, kg | 29 |
| Color | White |
| Warranty | |
| Warranty | 30 months |