ERGO company brought to market a super economic, environmental and durable LED lamps of a high efficiency.



Tariffs for electricity are growing almost every quarter, forcing us to think about saving. The best solution is to switch over to energy-saving lamps. However, the question is what type and producer should be preferred as the market is quite saturated with energy-saving lamps. And right here ERGO LED lamps have a number of advantages.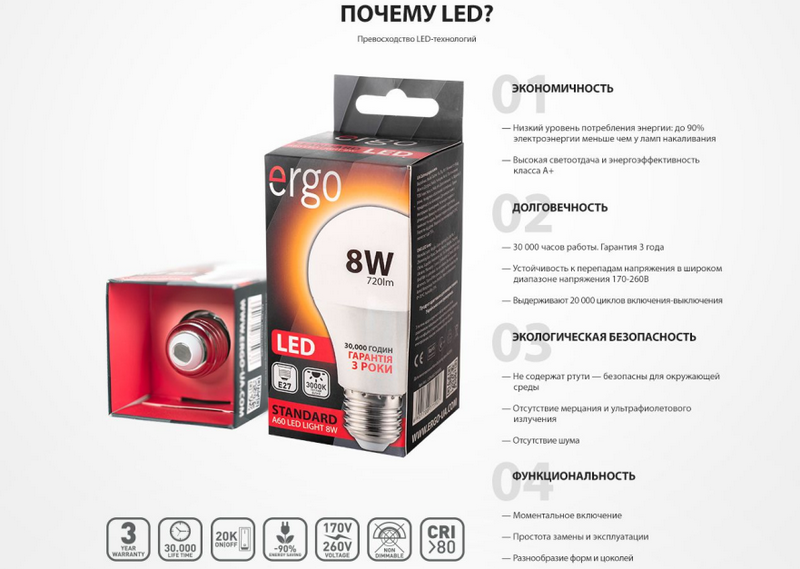 The first thing that distinguishes them from fluorescent lamps is the lowest at 60% power consumption. And compared to incandescent lamps - up to 90%.
Luminous flux of 10 watts LED lamps is 800-900 lumens averagely, which roughly corresponds to the light flux of fluorescent lamps of 20W or incandescent lamp of 75 watts. Thus, the light output of LED lamps on average is about 90Lm / W, allowing to rate them Class A +, according to the index of Energy Efficiency (IEE).

The second point is, Ergo LED lamps have a super long service life that is up to 30,000 hours, which allows to use the lamp up to 10 years in the daily operation of 8 hours a day.

It should be also mentioned about the structural strength of LED lamps. The body of LED lamp is made of durable aluminum, heat-conductive plastic and the diffuser is made of polymer material. The absence of glass parts and filament heater makes LED lamps resistant to physical impact, hits and vibration. Heating temperature of LED lamps is no more than 60 ° C, making it impossible to burn when accidentally touched.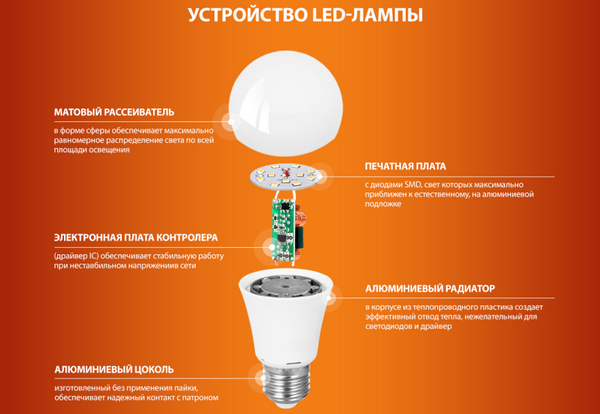 LED lamps do not contain mercury, which makes them absolutely safe, and they do not twinkle during operation. As you know, flickering of fluorescent lamps has a negative impact on human health and causes fatigue, and sometimes deteriorates people's health, especially when using fluorescent and energy saving lamps of poor quality. Unlike fluorescent lamps and incandescent lamps, LED lamps operate on DC power, don't produce flickering, which is much more useful for the eyes.

Also, important that LED lamps does not emit ultraviolet light during operating and are completely silent, so it makes possible to use them in schools, offices, hospitals, etc.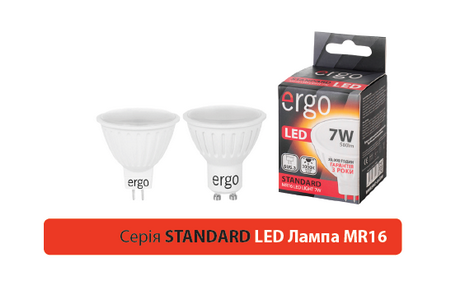 Thus, ERGO LED lamps, possessing high efficiency and light output with minimum power consumption and long life, are the perfect solution in saving money and energy, and thus, they are absolutely safe and environmentally friendly.

Official website of ERGO LED: http://led.ergo-ua.com
Official website of ERGO LED in Facebook: https://www.facebook.com/ErgoLamp/