Household appliances catalog ERGO brand has a stylish and functional novelty - cooking machine ERGO KM-1555, which can easily replace a lots of traditional kitchen accessories.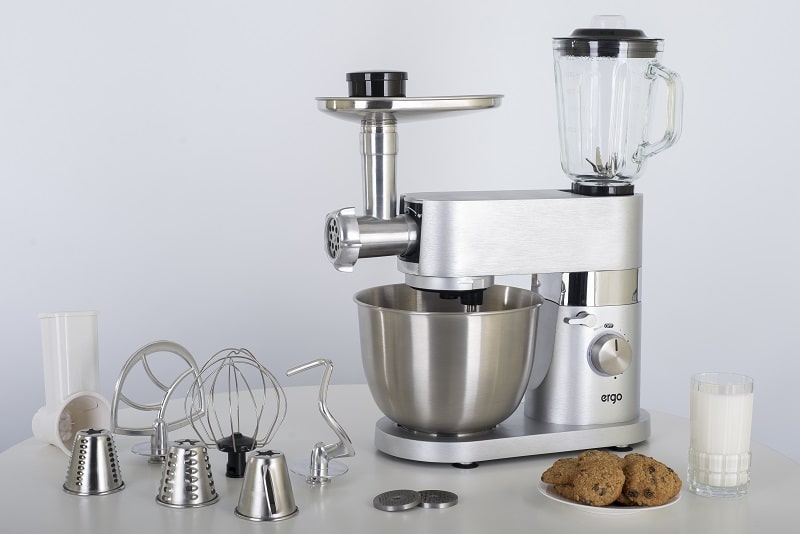 The brand ERGO already has a fairly wide assortment of kitchen appliances, including refrigerators, portable cooktops, microwave ovens, blenders, etc. Now the catalog of small home appliances has a universal assistant, such as a kitchen machine. This device is intended for a wide range of culinary tasks and cooking will become several times easier.
Made of matte stainless steel, ERGO KM-1555 model features a stylish design that will make it a highlight of any interior. 1500W power combined with pulse mode allows to handle even very solid foods. Eight modes of speed and several nozzles that are included in the package, provide the opportunity to work with a variety of products. For example, the whisk is used for whipping liquids, special nozzles help knead the dough the right consistency, and three nozzles for grater able to grind food into pieces of different sizes. Cooking machine ERGO KM-1555 also performs the functions of a meat grinder and blender.
Like the case of the cooking machine itself, its working cup is also made of stainless steel and has a volume of 5.5 liters. Capacity of a glass blender bowl is 1.5 liters.
As with any other ERGO household appliances, the warranty period for this model is 2 years.