The ERGO brand presented a new model of 32-inch smart TV ERGO LE32CT5550AK with FulHD resolution and EShare function.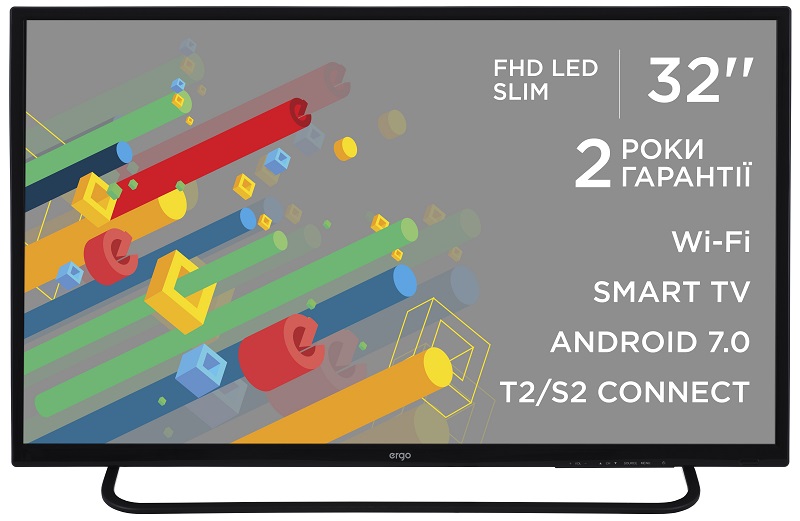 Like all ERGO TV products, LE32CT5550AK model combines stylish look with high-tech stuffing. The minimalistic design with a thin frame and a 32-inch screen will successfully fit any interior.
ERGO LE32CT5550AK model is not just another modern TV with Smart TV feature support. The highlight of this model is the EShare technology, allowing to remotely control TV, as well as directly share media content with mobile devices powered by Android OS. The user can shoot video on his smartphone and start the broadcasting directly to the TV just with a few touches. In addition, Android 7.0 operating system provides ample opportunities for installing and using any compatible software.
An 1920 × 1080 pixels ADS matrix with LED backlighting ensures the high image quality and renders rich, vivid colors, demonstrates excellent brightness and contrast. Wide viewing angles allow watching TV from almost any point in the room without losing image quality.
For those users who prefer habitual sources of multimedia content, ERGO LE32CT5550AK model offers ample opportunities. Three USB ports and a built-in media player allow to play video, photo and audio files from external drives. Three HDMI connectors, as well as a full set of both analog and digital input and output interfaces provide the ability to connect any additional multimedia devices. Built-in WI-FI-adapter ensures fast wireless Internet access.
ERGO LE32CT5550AK LED TV is a modern and powerful multimedia center that will beautify any home and fill it with high-quality entertainment content.