TM ERGO offers extreme lovers an interesting novelty - protected phone ERGO F245 Strength, designed for use under different conditions.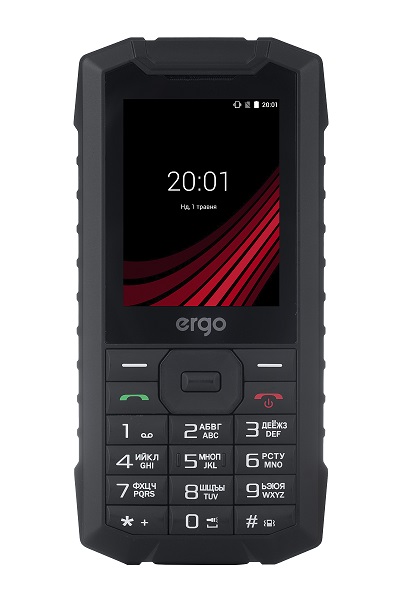 ERGO F245 Strength model is a classic push-button mobile phone. Its extremely strong housing allows to use this model in various situations. Made according to the IP68 standard, ERGO F245 Strength phone is not afraid of short-term immersion in water, to say nothing of such trifles as dust or rain. In addition, the special design of the case and use of super strong polymers protects this model from mechanical damage resulting from shocks and falls.
ERGO F245 Strength mobile phone features a set of basic modern communication interfaces - EDGE, Bluetooth, a slot for microSD cards and connectivity to a computer via a micro USB port. Two SIM card slots allow to enjoy the benefits of two service providers at once or have separate numbers for business and personal use.
A large bright 2.4-inch TFT-display with resolution of 240x320 pixels allows comfortable browsing using the mobile Internet. The battery capacity is 1400 mA / h, which provides a high autonomy. The built-in flashlight is useful in situations when there are no other light sources available.
Simple, compact and reliable, protected ERGO F245 Strength mobile phone will be highly praised by the users for whom to stay in touch under all conditions is a matter of high importance.